Solution For MIL-STD-1553B to ARINC-429 Data Conversion / Translation
The PCU100 Protocol Converter / Translator Saves Engineering Costs and Schedule Time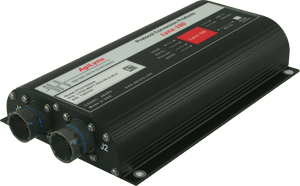 Quick Solution For MIL-STD-1553B to ARINC-429 Protocol Conversion
AgiLynx designs and manufactures Protocol Converter / Translator / Adapter products for military and commercial aircraft. Having extensive experience in the design and qualification of microprocessor based avionics and data conversion, our technical staff can work with you to provide a "commercial-off-the-shelf" (COTS) or customized solution for airborne quality protocol conversion.
Our off-the-shelf Lynx Series Protocol Converter (TM) units can save projects thousands of engineering hours by providing a pre-designed airborne qualified product that can be customized for your application.
Our units have been installed on C-130, CN-235, A319, P-3A, AT-63, S-92, F-5N, KUH-1, S-3B, H-60, F-15D, S-76, MC-130, DHC-8, KA-300, BD700 and UH-1N aircraft.
The Lynx Series Protocol Converter (TM) units provide easy to configure, high-speed conversion between MIL-STD-1553B and ARINC 429 data busses, and are qualified to DO-160D and DO-178B.
(Click here for high resolution view of PCU100 )
Use LynxCom-Pro(TM) to Configure the PCU100 Protocol Converter
LynxCom-Pro(TM) Provides Quick and Easy Point-and-Click Programming for your Protocol Converter
Article on the PCU100 Protocol Converter in "Avionics News"
Case Study using a Commercial-Off-The-Shelf Protocol Converter for MIL-STD-1553B to ARINC 429 Conversion (click here for .pdf)
Click Here For "Avionics News" Article
ISO 9001 Registered 2011-2021
For: "Design, Manufacture and Service of Avionics Products for Military and Commercial Aircraft." (Re-registration of ISO 9001 is under review)
Counterfeit Part Prevention
AgiLynx operates with documented Counterfeit Part Prevention practices addressing the requirements of SAE AS5553B.
PRIVACY POLICY
AGILYNX has published our Privacy Policy – Click here or on Menu above for our current Privacy Policy statement.
Contact us by Phone:   1–617–314–6463    or    1–978–930–1895  (Mobile)
Email:   sales2e (at)  agilynxs (dot) dcom